Welcome
bienvenidos
Every year, the NPRDP hosts a series of public events leading up to the culmination of the Parade on the second Sunday of June.  Our events and programs are designed to celebrate and advance Art, Culture and Education in the Puerto Rican community, both in Puerto Rico and the mainland U.S.
Mark your calendars, you do not want to miss any of the celebrations!  Come back regularly for an update on other events scheduled during the two weeks leading up to the parade.
One Nation, Many Voices
Un Pueblo, Muchas Voces
The National Puerto Rican Day Parade's theme Un Pueblo, Muchas Voces (One Nation, Many Voices) celebrates the creativity and diversity of thought in Puerto Rico and across the diaspora.
Honorees
homenajeados
The National Puerto Rican Day celebrates and honors the leaders, educators, artists, and celebrities that have left a cultural footprint on this nation.
honorees
La India
Madrina
José Feliciano
Lifetime Achievement Award
Chi Chi Rodríguez
Lifetime Achievement Award
Edgar Martínez
All-Star Athlete
Alberto Carrión
Lifetime Achievement Award
Dagmar Rivera
Lifetime Achievement Award
Pablo Casals
Posthumous Tribute
Pura Belpré
Posthumous Tribute
Ana María Martínez
Orgullo Puertorriqueño
Ana María García Blanco, PhD
Education Leadership Award
Jeannette Valdés Morales
Education Leadership Award
1979 Puerto Rican National Basketball Team
Sports Legends
Special Olympics Puerto Rico
Sports Rising Stars
Ricky Martin Foundation
Honoring a Cause
Flamboyán Foundation
Honoring a Cause
Discover Puerto Rico
Economic Development
Jorge Laboy
Ambassador
Nicole Chacón
Ambassador
Christian Nieves
Ambassador
Dalila Zapata Hernández
Rising Star
Ricky Martin
Grand Marshal
Bobby Sanabria
Padrino
Amanda Serrano
Athlete of the Year
MJ Rodríguez
Trailblazer
Sylvia Rivera
Posthumous Tribute
Felix Matos Rodríguez, PhD
Gala Honoree
Noel Quiñones Motta
Gala Honoree
Nilda Prieto
Gala Honoree
José Luis Cruz
Education Leadership Award
Carlos Olivieri
Teacher of the Year
Jorge Ramos
Lifetime Achievement Award
Willie Colón
Ambassador
Ricardo Currás
Ambassador
Yoshlin García "Bacán Bacán"
Ambassador
Raúl Ayala
Special Recognition (Loíza)
Samuel Lind Hernández
Special Recognition (Loíza)
Daniel Lind Ramos
Special Recognition (Loíza)
William Cepeda
Special Recognition (Loíza)
Stay Connected
Mantente conectado
Share your pictures from the parade events via Facebook, Instagram & Twitter using #PRParade.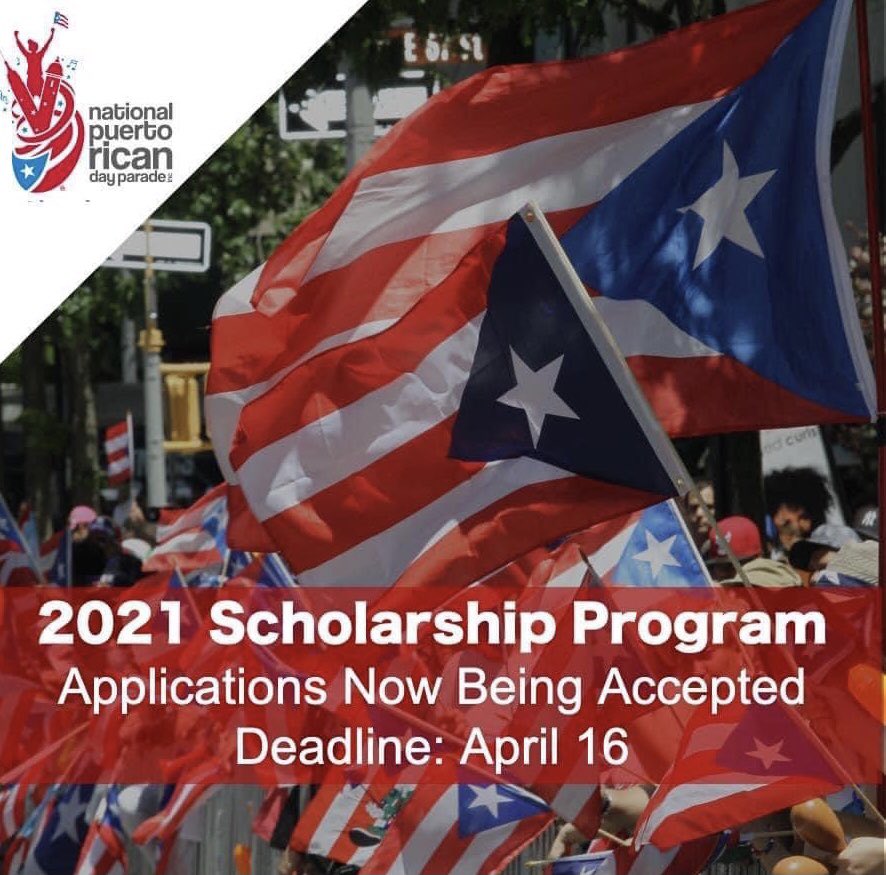 #PRParade
@prparadenyc
ONLY 14 DAYS LEFT! This holiday weekend, encourage the college-bound students in your family and circle of friends to apply for the
#NPRDP
Scholarship Program. Visit our website for details on eligibility and selection criteria, as well as to apply:
https://t.co/ddT2K6KQpj
🇵🇷🎓
https://t.co/VQRWkXAr23
Frequently Asked Questions
preguntas frecuentes
What is a parade/marching contingent?
 A parade/marching contingent is an organized group of 50 people or less representing a registered organization. All contingents must file a parade application. The NPRDP will provide permits and access wristbands upon completion of the registration process. No contingent will be permitted to march without the applicable permits and wristbands.

Does my organization need to register? Can we join another organization that is registered?
All organizations must file parade applications, separately. Parade formation permits cannot be shared.

Can I march in the parade without being part of a registered contingent?
No. For security purposes, required by the NYPD, we must have the ability to identify all marchers and their respective contingents.

How can I get the most up-to-date information about events?
Come back to the website regularly and follow us on Facebook, Twitter, and Instagram.