America's largest cultural celebration
Donate today for the NPRDP Scholarship Program!
Donate Now
Welcome
Bienvenidos
culture ~ pride ~family ~ celebration
NATIONAL PUERTO RICAN DAY PARADE LAUNCHES 2021 SCHOLARSHIP PROGRAM
March 2, 2021, New York City – The National Puerto Rican Day Parade (NPRDP) is now accepting applications for its 2021 National Scholarship Program.
For the fifth consecutive year, the NPRDP will award 100 scholarships valued at $2,000 each, for a total $200,000, to exceptional students of Puerto Rican descent that are making a difference in their communities.  Applicants must be high school seniors or full-time college/university students in their freshman through junior years in college.  
"We are excited to launch the 2021 NPRDP Scholarship Program, as we continue supporting the students in our community in their pursuit of higher education," said Louis Maldonado, NPRDP Board Chair.  "Last year, we received applicants from students representing 16 states and Puerto Rico, and we are working to further broaden participation in 2021.  Read More
——
2 de marzo, 2021, Ciudad de Nueva York – El Desfile Nacional Puertorriqueño
(NPRDP por sus siglas en inglés) ya está aceptando solicitudes para su Programa Nacional de Becas 2021.
Por el quinto año consecutivo, el programa otorgará 100 becas de $2,000, para un total de $200,000, a estudiantes excepcionales de ascendencia puertorriqueña que están haciendo una diferencia en sus comunidades. Los solicitantes deberán ser graduandos de escuela superior (secundaria) o estudiantes universitarios a tiempo completo en su primer, segundo o tercer año (freshman, sophomore o junior, respectivamente).
"Estamos muy entusiasmados de lanzar el Programa de Becas NPRDP de 2021 para continuar con el apoyo que le hemos brindando a los estudiantes de nuestra comunidad mientras ellos emprenden en el camino de su educación superior", dijo Louis Maldonado, presidente de la Junta Directiva NPRDP.  "El año pasado, participaron estudiantes que representaron 16 estados y Puerto Rico, y estamos esforzándonos en poder aumentar la participación de nuestra juventud aún más". Leer Más.
Register Now
Honorees
homenajeados
The National Puerto Rican Day celebrates and honors the leaders, educators, artists, and celebrities that have left a cultural footprint on this nation.
2019 Honorees
Support the NPRDP Scholarship Fund
Apoya nuestro programa de becas
We joined forces with Lin-Manuel Miranda renowned actor, singer, composer, writer, and Nuestro Orgullo, to create a specially designed National Puerto Rican Day Scholarship Fund TeeRico t-shirt. Proceeds from the sales of the t-shirts will benefit NPRDP's Scholarship Fund.  Your purchase will help support the pursuit of higher education in our community! T-shirts are $29 and available in black and grey. Click Link Below To Buy Yours!
Puerto Rican Scholarship Fund Tee
We are proud bearers of the Guide Star Platinum Seal of Transparency
Donate while you shop for the Holidays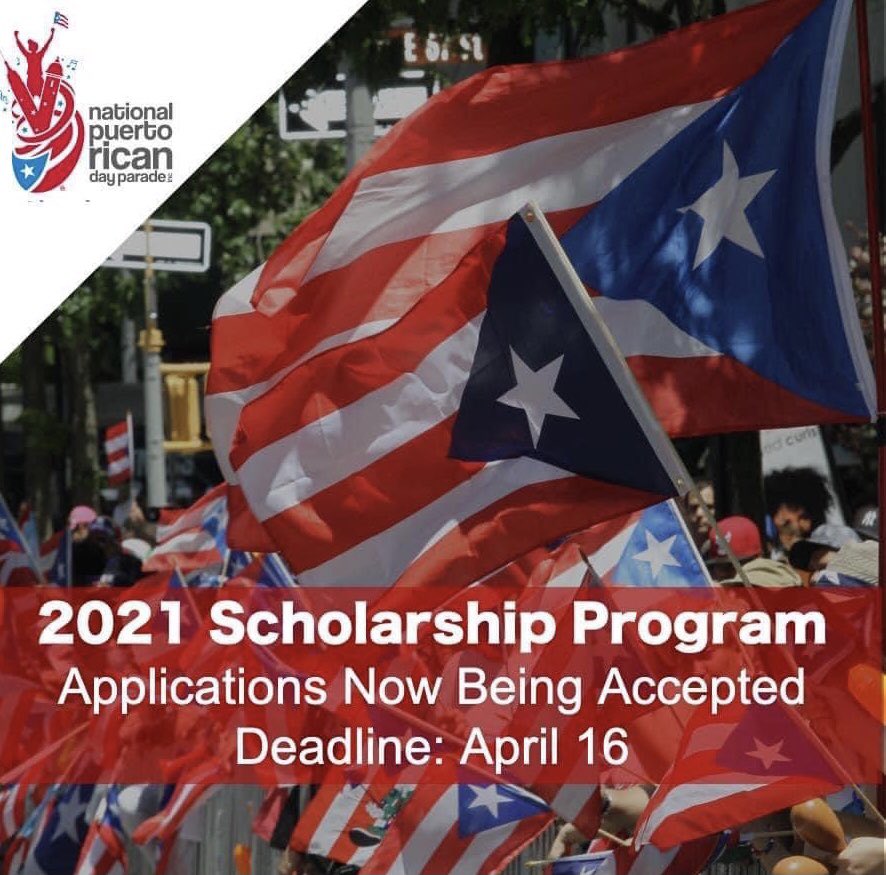 #PRParade
@prparadenyc
ONLY 14 DAYS LEFT! This holiday weekend, encourage the college-bound students in your family and circle of friends to apply for the
#NPRDP
Scholarship Program. Visit our website for details on eligibility and selection criteria, as well as to apply:
https://t.co/ddT2K6KQpj
🇵🇷🎓
https://t.co/VQRWkXAr23